Scars

20-year-old Aaron Knigge's scar hides the tube connected to his main artery that is reopened during his chemotherapy treatments.

Aaron was diagnosed with stage three non-Hodgkins Lymphoma in 2014 and underwent nine chemotherapy sessions over a few months. At this point, he finished his second treatment and had only begun feeling the side-affects.

Now married, Aaron made a full recovery with his scars slowly healed and hidden beneath his shirts.
24-year-old Brandi Fendler's scar lines her spine where a rod was surgically placed to stabilize the six vertebrae doctors fused together.

Brandi was diagnosed with Sheurmann's Disease at 18, which caused the cartilage in between the vertebrae to pinch the nerves around it. After the surgery, it took a month and half until she could walk again, and it left her with a 20 inch scar reminding her of the metal pole that she has for the rest of her life.
34-year-old Gretchen Darling's scar rests above her uterus reminding her of a chaotic second pregnancy.

Gretchen hoped to have a natural birth with her second son, Wyatt, but complications left her with no option. An emergency C-section took place after Wyatt was close to puncturing through her uterus.

While the scar is a reminder that she will never have a natural birth again, it also serves a memory of when her life was saved.
24-year-old Kt Lynch's scar reminds her of her Grandmother and the smell of burning skin.

When she was little, her Grandmother clipped the ends of her cigarettes on her hand as punishment. While the burning stopped, her scar remains as a reminder of her punishments.
28-year-old Caleb underwent arm surgery after his motorcycle slide out of control on Highway 62.

Since the accident, Caleb has been in two more life-threatening motorcycle accidents. He intends to keep riding.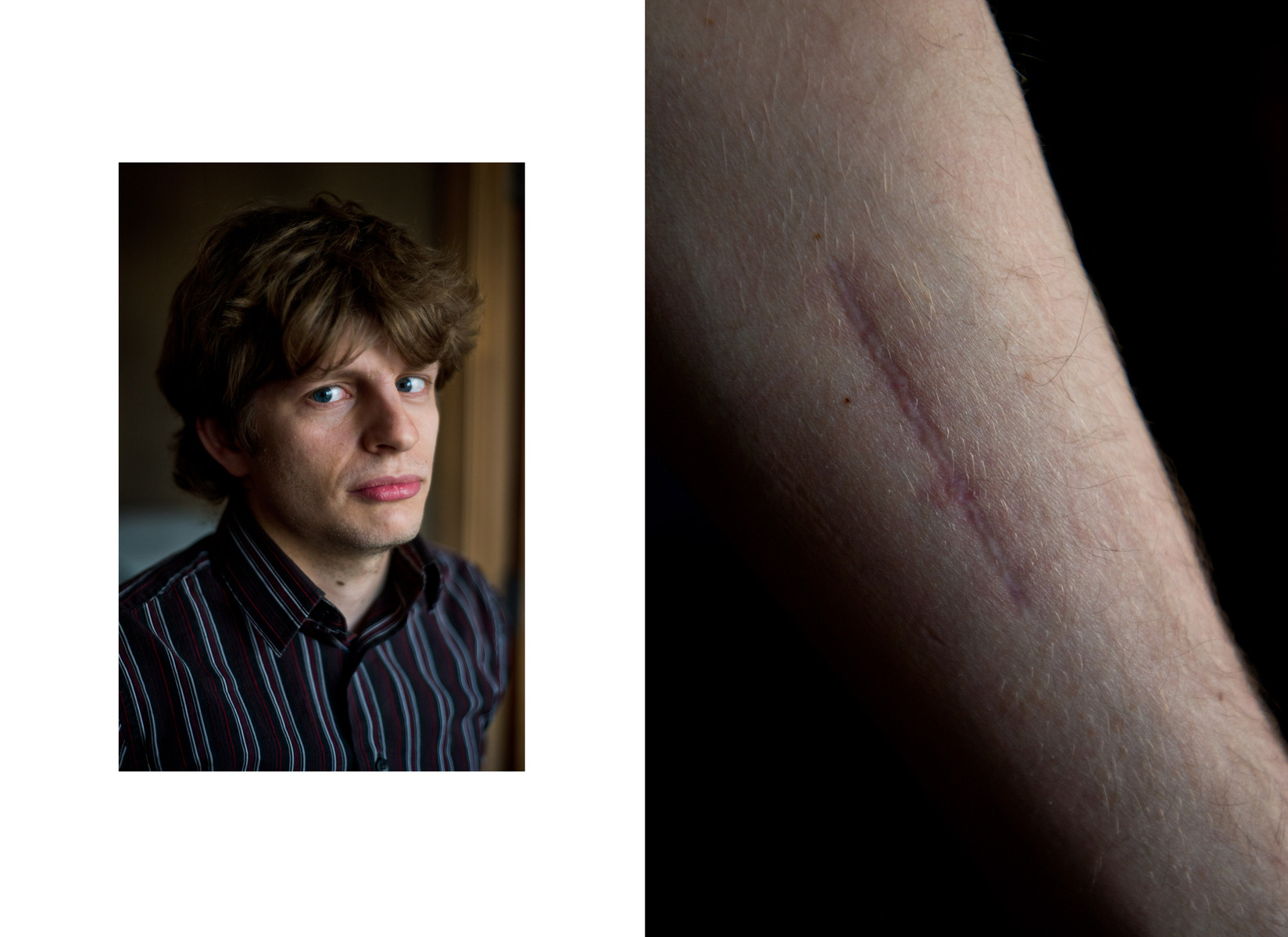 23-year-old Megan Dean's scar drips down her knee.


An avid soccer player, Megan was benched for a season after having to undergo surgery to repair a ligament.

She is currently studying to be a physical therapist at St. Kate's University.
22-year-old Ellie Weber's scar lines the back of her leg.


While on a mission trip in Africa, Weber was running through the grounds when she ran into a wired fence. Being in a remote area, immediate medical attention was not possible. Scared of losing her leg after seeing a loss of a large amount of blood, she was rushed away from the grounds.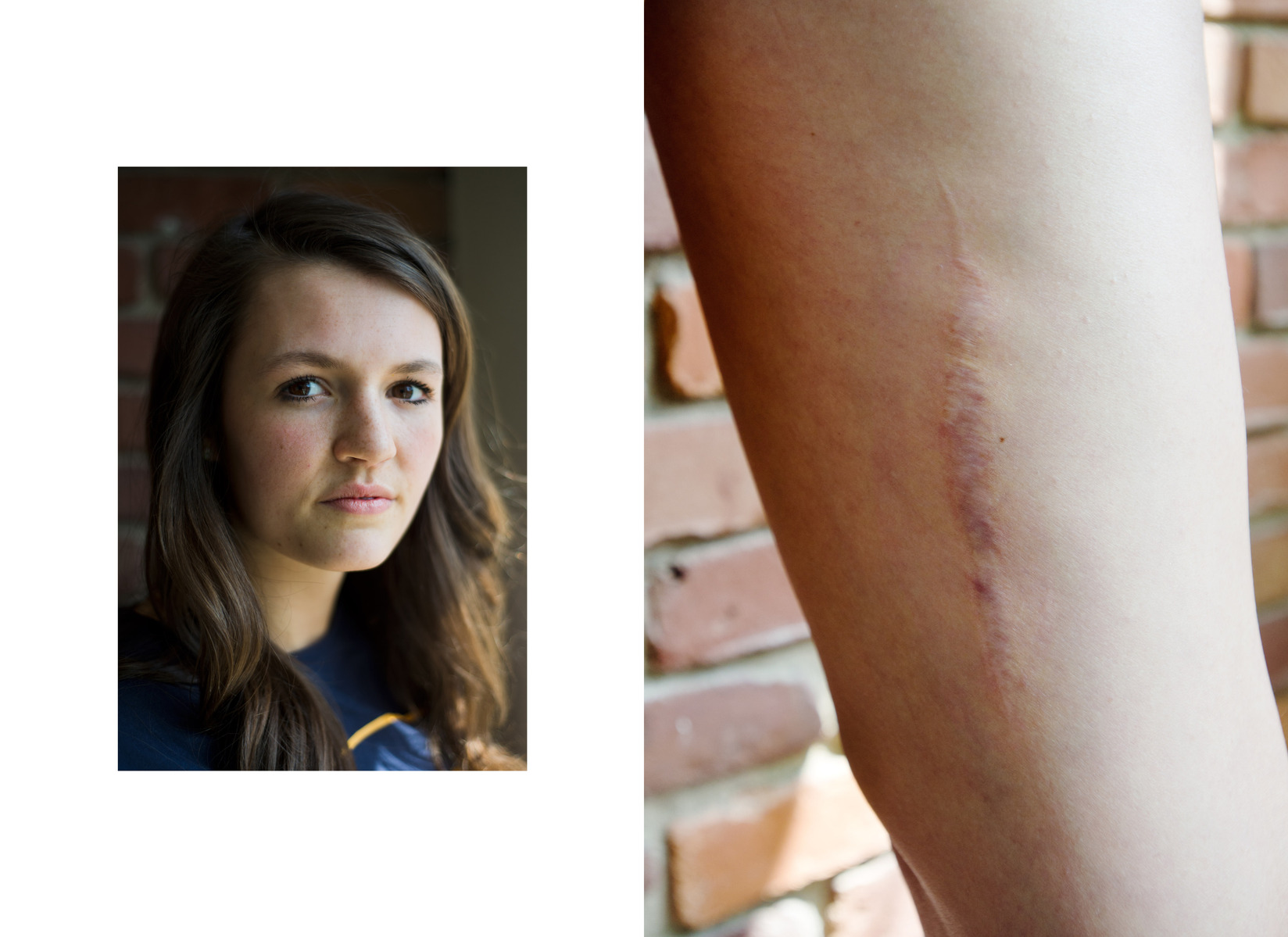 23-year-old Sam Lament was playing football when a long pass took him blindly into a large fence.


Lament decided "regrettably" not to get stitches and was left with a mangled looking scar.
25-year-old Tyler Dormanen was a "hyper kid" when he received his first and more prominent scar. Running around a jumping on the bed left him with a huge cut and ultimately a trip to the emergency room.
23-year-old Laura Jollie poses with her 'gymnastic hand.'


Jollie received this during her gymnastics career. Despite the injury, Jollie continued into college sports.